Premium Replacement Cone Crusher Parts
When it comes to Replacement Cone Crusher Parts, Qiming Machinery has been crushing the market for decades. If you demand the peace of mind that comes with ISO 9001-certified, fully-guaranteed, and warranted replacement parts for your cone crusher, your search ends with Qiming Machinery – Your Replacement Cone Crusher Parts SuperStore.
Qiming Machinery's aftermarket replacement parts enable stable production without unexpected downtime. The wide cone crusher parts offering consist of wear parts and spare parts for popular brand models.
Through our application-driven, site-specific engineering capabilities, our offering of replacement cone crusher parts of most any origin has gained acceptance and earned the confidence of aggregate and mining operations around the world. From heads & shafts to eccentrics and bushings to filters, belts, and hoses, Qiming Machinery is Your Replacement  Parts SuperStore.
Qiming Machinery cone crusher wear parts are produced at our own foundry and manufacturing facilities. As a result, we have complete control over quality at every step of the process, from the selection of raw materials to final production.
Qiming Machinery supplies replacement wear parts to fit all major cone crusher models, including the new high-horsepower crushers. Qiming Machinery cone crusher wear parts are engineered to maximize production by retaining the feed opening throughout the part's lifespan, and balancing the mantle and bowl liner wear. Cone parts can be custom-fit to match any application.
Cone crusher parts are often made of manganese, which ensures the highest possible wear life, mechanical reliability, and numerous mounting possibilities.
Suitable for any demanding crushing environment for stationary and mobile crushing processes, cone crusher wear parts are designed for hardest rock in the toughest environments in surface and underground operations.
Common cone wear parts include:
Mantles
Bowl liners
Concaves
Feed cones
Mainframe liners
Protection cones
Armguards
If you have any inquiries about wear parts, you can check with our engineers about it.
Although Qiming Machinery is not a manufacturer for cone crusher spare parts, our foundry had cooperated with some spare parts manufacturers to supply high-quality spare parts for famous brands.  All of the spare parts are backed by our quality control system to protect quality.
Qiming Machinery has heavily invested in new technology in order to set the standard for aftermarket quality assurance, reverse engineering, and metallurgy, resulting in the continual and rapid growth of our product range, especially for those parts normally only associated with the original equipment manufacturers (OEM).
With multiple fabrication options and upgrades to choose from, Qiming Machinery's cone crusher spare parts are eliminating the risk that the replaced part becomes the weak point in your crusher. They offer stable production without unexpected downtime.
Common cone crusher spare parts include:
Frames
Mainshaft
Eccentrics
Heads
Bushings
Pinions and gears
Pinionshafts and countershafts
Adjustment rings and bowls
If you have any inquiries about spare parts, you can check with our engineers about it.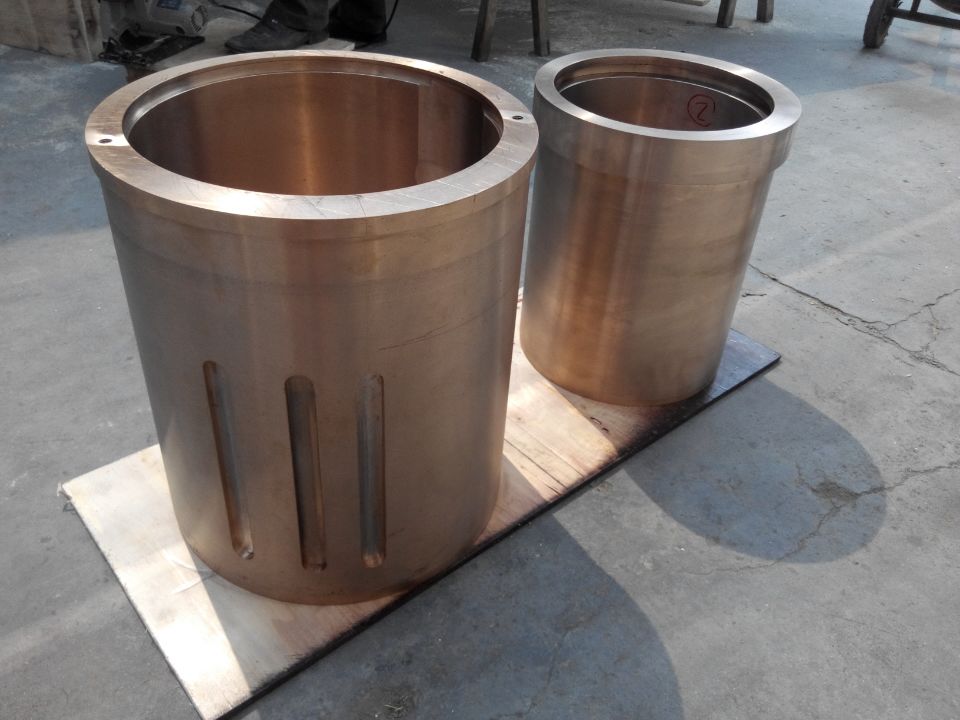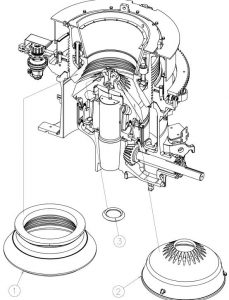 Wear Liner Set Include:
Bowl Liner
Mantle
Torch Ring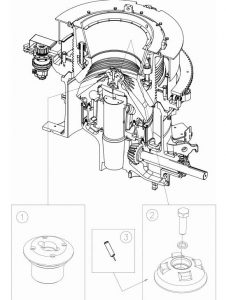 Feed cone includes:
Lock bolt
Feed cone set
Silicone seal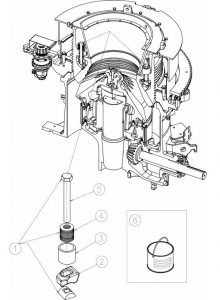 Screw set includes:
Screw set
Clamping fork
Washer
Cup spring
Hexagonal screw
Grease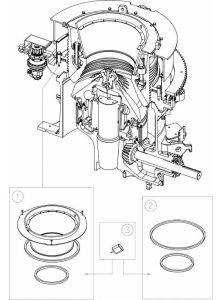 Conical hopper set includes:
Conical hopper set
Seal set
Glue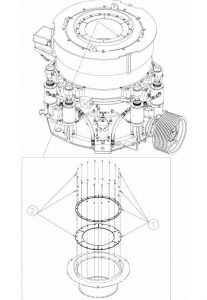 Dust seal includes:
Dust seal
Dust seal set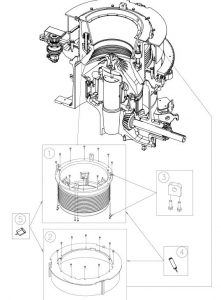 Crusher bowl includes:
Bowl assembly
Adjustment cap set
Eye screw set
Silicone seal
Glue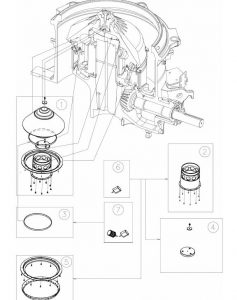 Crusher head includes:
Head assembly
Head bushing set
Seal ring
Head ball set
Ring set
Glue
Glue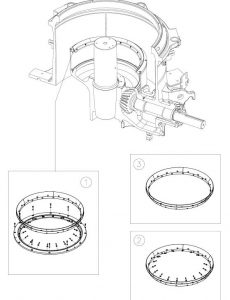 Sealing device includes:
Sealing device
Seal set
Seal set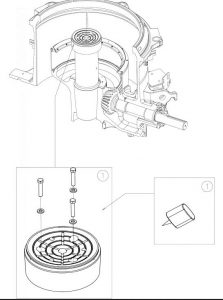 Socket set includes:
Socket set
Thread locker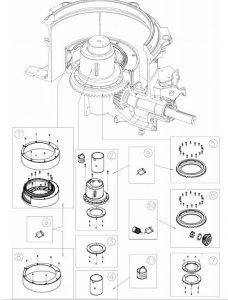 Eccentric includes:
Counterweight assy
Eccentric assembly
Thrust bearing set, upper
Eccentric bushing
Drive gear set
Gear set
Thrust bearing set
Counterweight liner set
Thread locker
Thread locker head
Locking agent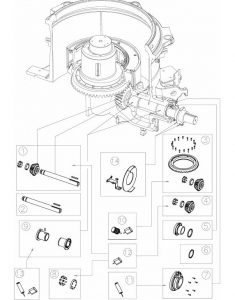 Countershaft assembly includes:
Countershaft pinion set
Countershaft set
Gear set
Pinion set
Oil flinger set
Piston seal
Housing set
Lock washer set
Countershaft bushing set
Thread locker, hard
Silicone seal
Thread locker, hard
Glue
Support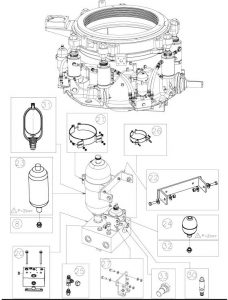 Tramp release assembly includes:
Cylinder set
Nut set
Protective bellow set
Main frame pin set
Piston set
Seal set
Threadlocker, hard
Adapter
Hydraulic hose
Hydraulic hose
Elbow
Equal tee
Equal tee
Elbow adapter
Plug
Hydraulic hose
Hydraulic hose
Adapter
Elbow adapter
Manifold set
Collar set
Support set
Pressure accumulator
Pressure accumulator
Adapter set
Collar set
Support set
Elbow
Hydraulic hose
Pressure relief valve
Repair set
Adapter
Check valve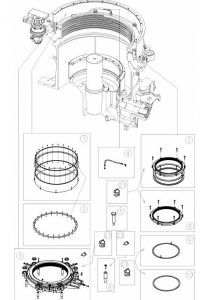 Adjustment ring includes:
Dust shell set
Seal set
Adjustment ring assembly
Flexible hose set
Screw, hexagonal
Main frame pin set
Clamping ring set
Clamping ring set
Hydraulic ring clamping set
Shim
Base plate set
Support set
Guard set
V-ring
Motor reducer set
Pinion set
Hydraulic adapter set
Cam follower set
Slide set
Drive gear set
Grease
Glue
Gear reducer
Brake
Gasket set
Hydraulic motor assembly
Aftermarket replacement parts for popular cone crusher brands
Although Qiming Machinery is not the OEM foundry for those popular crusher brands, our engineers have cooperated with the end-users redesign new aftermarket parts for their crushers. In some cases, our aftermarket replacement cone crushers parts working life can match their original parts, even much better than original parts.
If you have any inquiries or problems about those cone crusher parts, you can send us the part number or drawings to check. On the other hand, we also can send engineers to your place to help you get the right drawings or redesign!
Disclaimer:
All of those brands cone crusher parts are not OEM parts, our foundry just manufactures or redesigns aftermarket replacement parts by end-users supply drawings or sample products. All brand names, model names, or marks are owned by their respective manufacturers. Qiming Machinery® has no affiliation with the OEM. These terms are used for identification purposes only and are not intended to indicate affiliation with or approval by the OEM. All parts are manufactured by, for, and warranted by Qiming Machinery® and are not manufactured by, purchased from, or warranted by the OEM.
If you have inquiries or problems with those brands cone replacement parts, please feel free to contact our engineers!