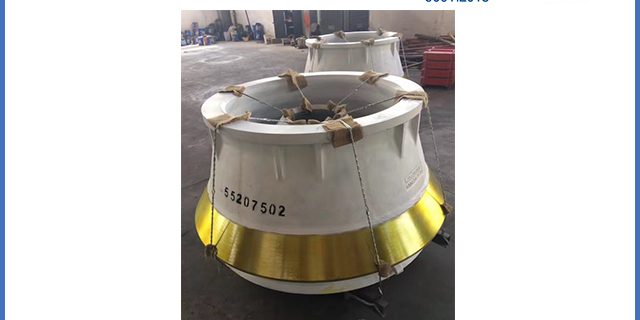 Qiming Machinery manufactures the aftermarket cone crusher bowl liner (Part number: N55207502, Weight: 2060kg )for the customer who uses the Omnicone cone crusher.
Qiming Machinery leads the way in quality and support–beyond what you'd experience with cone crusher wear parts. Qiming Machinery delivers premium replacement parts for your next cone crusher repair. In most cases, we have the part on the shelf and ready for immediate shipment. In some cases, Qiming Machinery has even improved the conventional design of the part to enhance durability and performance. Whether you need to replace cone crusher parts, Qiming Machinery has your inquiry crusher parts needs covered.
Qiming Machinery is Your SuperStore for Crusher Wear Parts! All Qiming Machinery Replacement Parts are backed by our ISO9001:2015 system and are shipped only after meeting our rigorous quality standards. We are committed to meeting your replacement parts need in a professional and efficient manner. Our Customer Support Department is ready to help you with a quote, to check inventory, or to simply answer a technical question.  Talk to your Qiming Machinery professional today about your specific needs!
Product details
| | | | |
| --- | --- | --- | --- |
| Product Name: | Cone Crusher Bowl Liner | Material: | Mn18Cr2 |
| Part Number: | N55207502 | Weight: | 2060kg |
| Color: | Customer's Requirement | Certification: | ISO9001:2015, SGS |
| Cavity: | Standard Medium | Heat treatment: | Water Quenching |
| Brand Name: | Qiming Machinery | Place of Origin: | Jiangsu, China |
Material
Except for manganese steel, we also supply various kinds of material to suit to crush different materials.
| | | |
| --- | --- | --- |
| Material | Applications | Properties |
| Mn14Cr2 | hardest material, mildly abrasive material | highest impact resistance, low abrasion resistance |
| Mn18Cr2 | harder material, medium abrasive material | higher impact resistance, better abrasion resistance than Mn14 |
| Mn22Cr2 | hard material, most abrasive material | less impact resistance, better abrasion resistance than Mn18 |
| Mn18Cr2+TIC | hardest material, most abrasive material | highest impact resistance, highest abrasion resistance |
| Alloy Steel | harder material, medium abrasive material | magnetic separation |
Is it original parts or aftermarket parts?
It is aftermarket parts. We manufacture this part by customer drawings and his part number.
Omnicone is a mark of Metso Minerals Industries, Inc. or its affiliates. Qiming Machinery is not an authorized repair facility nor does it have an affiliation with Metso. These terms are used for identification purposes only and are not intended to indicate affiliation with or approval by Metso of Qiming Machinery. All parts are manufactured by, for, and warranted by Qiming Machinery and are not manufactured by, purchased from, or warranted by the original equipment manufacturer.
Could I use this type of bowl liner patterns?
Yes, you can use these patterns, because the pattern is manufactured by us. On the other hand, if the customer pays for the pattern fee and asks us don't use his patterns, we will do not use it for any other customers.
For this part number cone crusher wear parts, the pattern belongs to our foundry.
What is the price for this cone crusher liner?
Our price based on quantity and material.
For example:
Material: Mn18Cr2
Total weight less than 50 tons,  FOB shanghai USD1.6 per kg
Total weight around 50-100 tons, FOB shanghai USD1.55 per kg
Total weight more than 100 tons, FOB shanghai USD1.5 per kg
What is the delivery time?
Delivery time based on quantity.
Less than 50 tons, 35 days.
50-100 tons, 55 days
More than 100 tons, you need to check with our sales about the production plan.
How about this cone crusher liner quality?
We are the most stable wear parts casting foundry in China. After finish every order, we will send you full quality control reports, which include:
Chemical composition report
Machining size report
Casting size report
Mechanical behavior report
Dye penetration inspection report
Send us a quotation
If you any questions about this type of cone crusher liner or other crusher wear parts, please contact us freely!